I posted on Facebook: "Somebody had to."
Naturally, I am a fan of CW's "Arrow," and being that I'm already known for cosplaying Green Arrow, it might as well be me.
First, some pics from the show: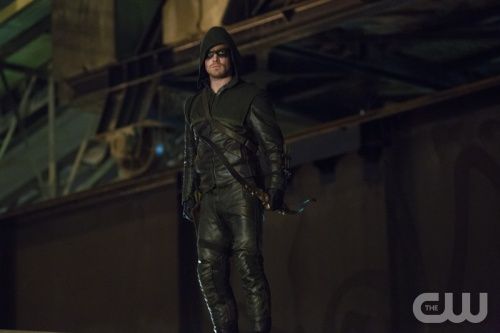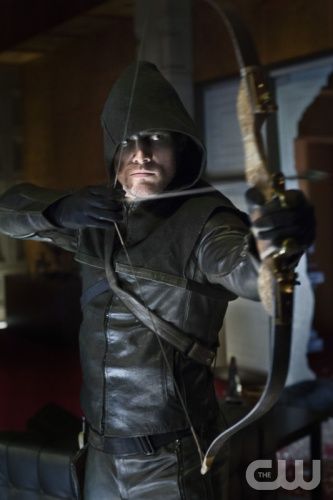 As GA costumes go, it looks pretty straightforward. Leather jacket with fabric yoke/hood, leather pants, gloves, boots, belt and holster, quiver and, of course, arrows. And me being me, I needed a reasonable facsimilie in an unreasonably short period. In this case, about 4 days.


I started with the yoke/hood assembly, figuring if I get this part mostly right, it will sell the rest of the costume and it will all fall in place. I used olive drab flannel as dark as I could find it, with matching trim for the details. The whole thing fits over a Wilson's Leather cafe racer jacket that I happened to have in my closet.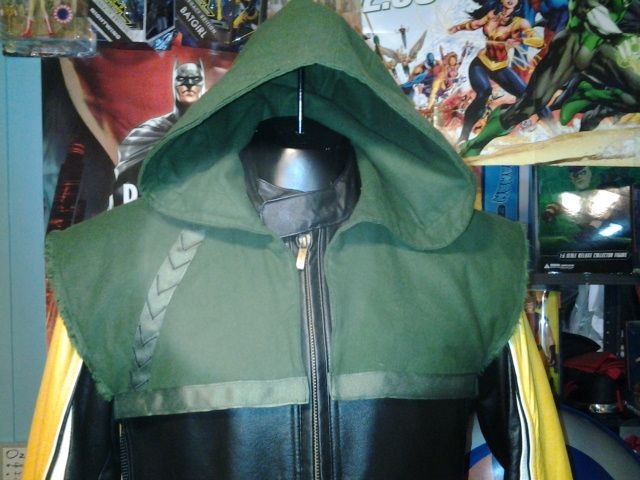 The jacket is more or less the right style, although it's bulkier than the more fitted jacket used on the show. Nonetheless, I didn't have time or materials to make it from scratch, so I gave this jacket a coat of dark green Nu Life. I depleted my local supply, as the shop I buy my spray from closed down just a day after I got their last 2 cans of this shade.
Here it is before ...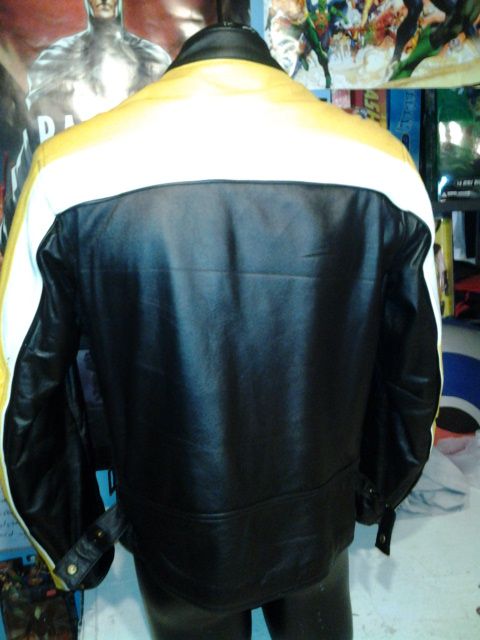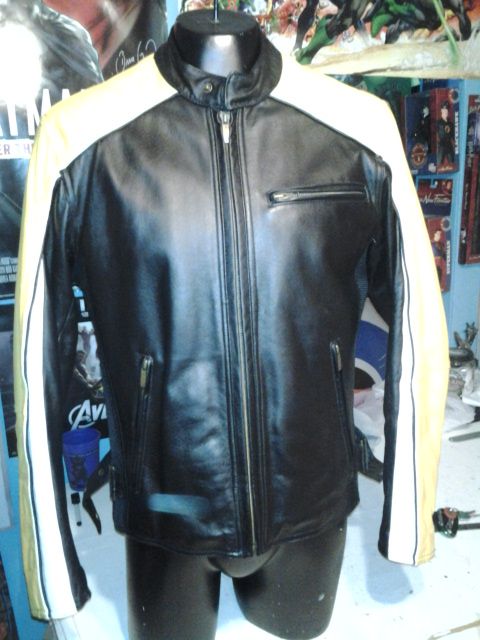 ... and after ...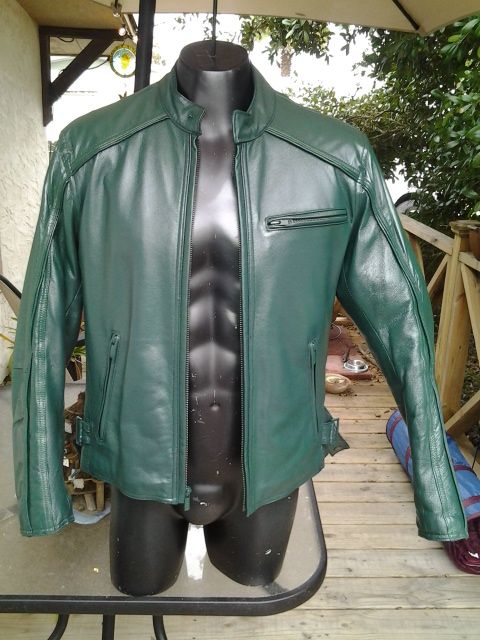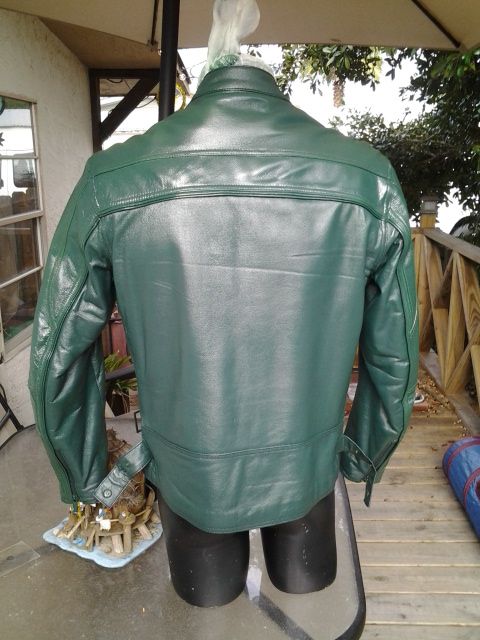 The only modification I did to the jacket was to the collar, which originally had a snap flap.

The pants were made from upholstery vinyl with rough moleskin (heavy spandex) in the crotch and along the calves, for easier fit and movement.



The quiver is a typical tube quiver, basically a mailing tube with a vinyl covering, and nylon web belting for the straps, with the wide part covered in leather (I had enough lambskin to do that much!).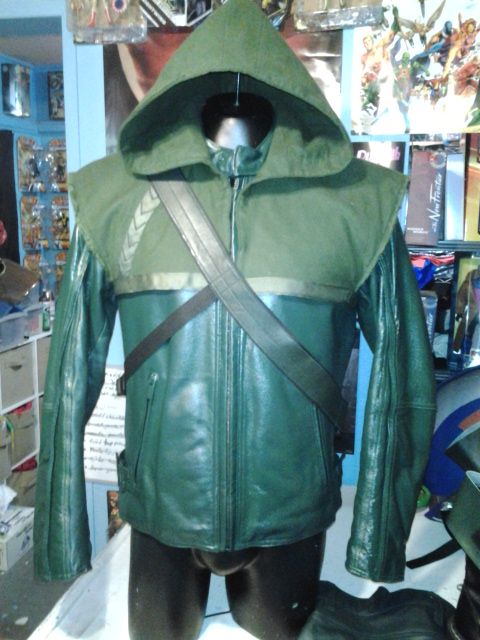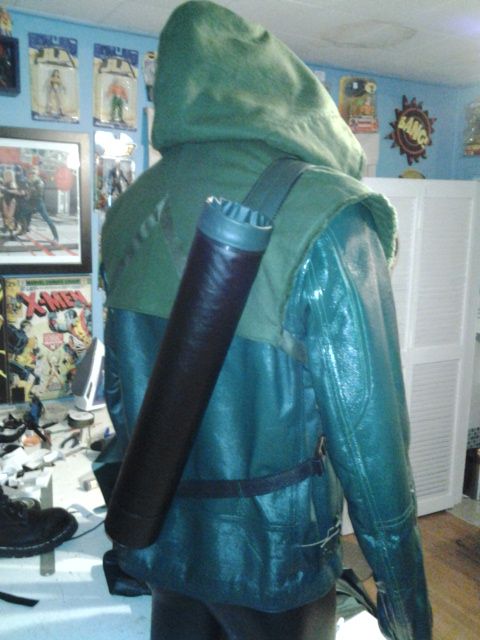 The boots on the show are basically lace-up military style boots with a leather cuff on top. I used some boots I already had and attached an upholstery vinyl cuff with velcro. The gloves are also from another costume; black motorcycle style gloves. I used a belt and holster from yet another costume.

The final piece of the puzzle was an armguard with mini-arrows, which I made in the hotel room the night before I suited up.
It's a child-size shin guard, painted, with wood dowel mini-arrows, duct tape for the flights, and held together with EVA foam.




I already had the bow and arrows, obviously.
Add some green eye shadow, and here is what it looks like all together: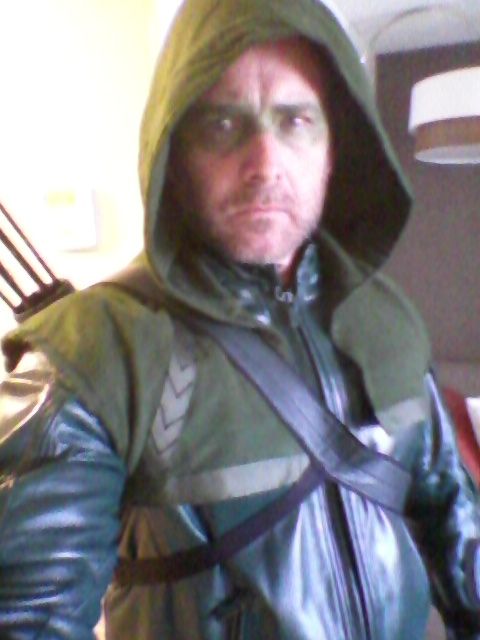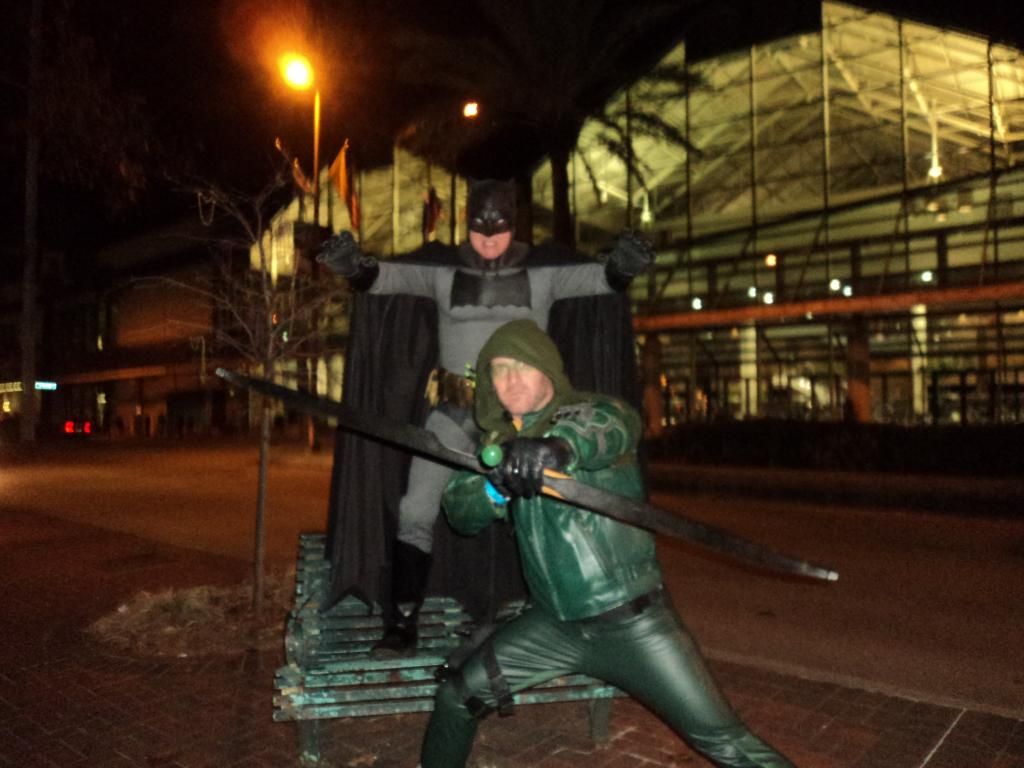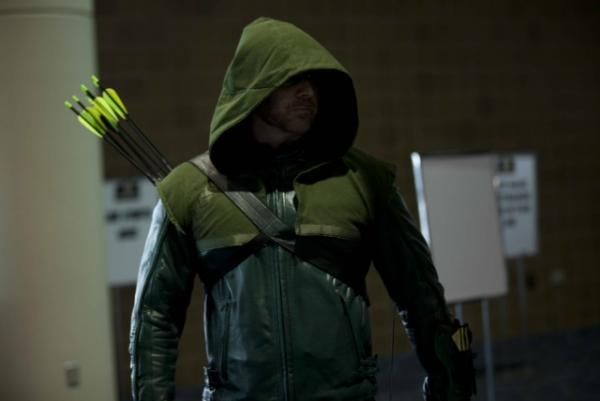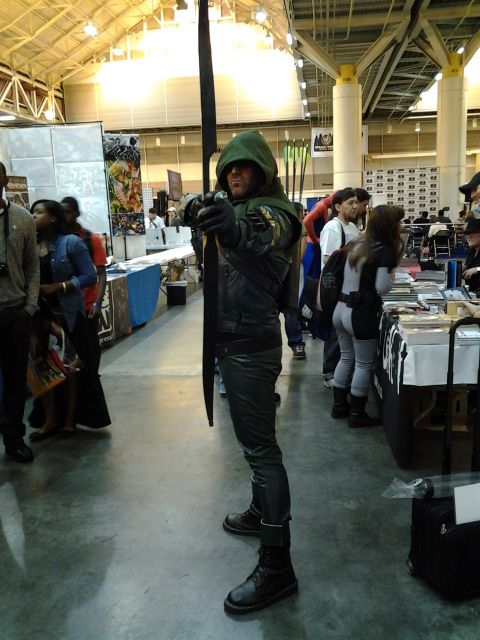 I considered Wizard World the dry run, because I'm already planning upgrades: Real leather pants made more in the style of the show costume (this pair is lacking much of the detail they should have to be screen accurate, not to mention NO POCKETS); a new slimmer-fitting jacket, also more screen accurate; actual bowhunting gloves; a new holster slightly larger to fit crossbow bolts; better mini-arrows, and probably loosen up the side straps on the yoke so it won't crease in the shoulders. Oh, and gotta practice that eye makeup.