I have always been a huge Iron Man/Batman fan. When it comes to creative costumes, I believe Iron Man wins every time. Even with Iron Man's popularity, there are not allot of people tackling his armor, so I decided to take a 'rookie' stab at it. I have been creating the Ali Granov's "Ablative Armor" out of Aluminum and bondo, and it is turing out great! (will post pics soon).
My newbie woes come into play when I made a crucial mistake modeling the helmet. I used self-drying modeling clay over a foam mannequin head-piece: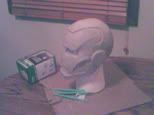 I am now in a mad rush to keep the cracking from destroying what I have already done before I can smooth, detail and cast a final product.
ANY HELP WOULD BE GREATLY APPRECIATED!!!